Makello is developing GIS services and creating maps useful to the solar power, electric vehicle, and energy storage industries, as well as for our teaming companies, including several non-profit organizations. Maps are an important method for analyzing and presenting data.
We will examine redlining and clean-air technology access by the San Diego African American community in this blog. See the editor's note below on how we will be using the Census Bureau term African American as defined by the Census Bureau: Race for Residents of African ancestry or birth including both US Citizens and non-US Citizens. For more info on data sources and terminology, references are provided at the end of this article.
Makello works with non profits and other agencies to create maps for Environmental Justice initiatives.
Editors Note: Click to view Makello's commitment to finding words and methods to accurately represent data while conveying inclusion of the appropriate demographic.
Makello began using maps to analyze data and learn about our community in 2019. From time to time, we intend to share some of the maps we've developed but there are challenges to presenting the data accurately and transparently, especially with regards to designations for Race, Identity and Ethnicity.
The US Census counts all people living within the Boundaries of the United States and Territories. The data collected is by Race, not citizenship status. The Census data uses terminology that can easily be misunderstood because of common usage of terms vs. the Census Bureau definition. The Census Bureau meaning of the term is often lost as the data filters down to the public through agencies and businesses.
The Census Bureau uses the terms African American, Asian American, Native American, Hispanic, White and Other to define Race. Citizenship or immigration status is not counted. The loss of context of these words may prevent accurate and full understanding of data. People may feel invisible or may be unintentionally misled.
You may have noted a few potential difficulties in the short list of the terms presented. That is where the struggle lies when attempting to represent residents without being US-Centric or Ethno-centric. Acceptable terminology changes through time, is understood differently in separate regions and countries, by different cultures and ethnicities. Individuals infuse meaning in words based on their life experiences, making classifications difficult.
Maps may focus on a specific demographic for any number of reasons. It can be difficult to adequately portray diversity on the map with charts or graphs. Please refer to the two examples below.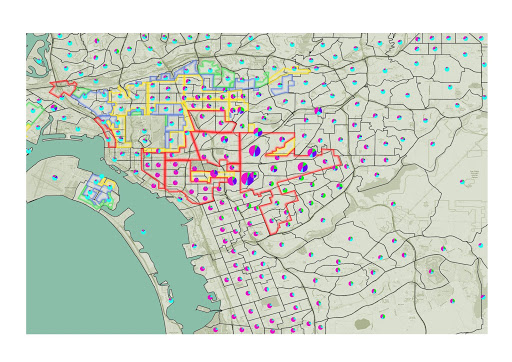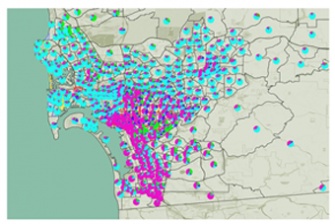 Makello is committed to the difficult task of finding words and methods to accurately represent data while conveying inclusion of the appropriate demographic. We make great effort to research and vet language. Language and identities change. Unfortunately, there is no all encompassing, perfect language for describing people. What one person thinks is a great label and strongly identifies with, the next person may reject or find offensive. We accept open and honest feedback and hope you enjoy the information we present.
The first question to answer is where are the communities with 10% or more of the African American residents? A map of the demographic data from the CalEnviroscreen 3.0 is the simplest method of discovery. CalEnviroscreen obtained demographic data from the US Census Bureau and retained the US Census Bureau demographic descriptors in their report. Our map above shows the population is largely concentrated in the area to the east of Downtown San Diego which will be the area we focus on for the purpose of this blog.
Why is the population so heavily concentrated in this area? With a special thanks to University of Richmond's Digital Scholarship Lab, a look at the 1930s New Deal Era Home Owners' Loan Corporation Redline Maps may help to answer this question.

The Home Owners' Loan Corporation (H.O.L.C.) was created during the Great Depression New Deal Era and the program trained many home appraisers in the 1930s. The H.O.L.C. created a neighborhood ranking system known today as redlining. Grades were assigned to residential neighborhoods by local real estate developers and appraisers in over 200 cities. These maps and neighborhood ratings set the rules for decades of real estate practices. The grades ranged from A to D.
The Green Area- Grade A = Best: Always upper-middle-class to upper class White neighborhoods defined as posing minimal risk for banks and other mortgage lenders, as they were "ethnically homogeneous" and had room to be further developed.
The Blue Area- Grade B= Still Desirable: Neighborhoods with all or mostly White, U.S. born residents were defined as sound investments for mortgage lenders.
The Yellow Area- Grade C =Declining: Residential neighborhoods with working class and/or first or second generation immigrants from Europe. The housing stock was typically older and often lacking the current utilities of the day.
The Red Area- Grade D= Hazardous: These neighborhoods were considered to be "infiltrated" with "undesirable populations" such as Jewish, Asian, Mexican, and Black families. The neighborhoods were more likely to be located near industrial areas and the housing stock consisted of older, less well maintained buildings.
Are you ready to save money on solar power, EV charging or Energy Storage? Get an instant quote from Makello!
These grades formed the basis for federally backed mortgages. Many banks refused to lend to areas with the lowest grade, making it impossible for people in these neighborhoods to become homeowners and preventing them from building generational wealth.
As you can see from the map, many of the areas that were labeled undesirable in the 1930s are still the areas where African Americans are concentrated. The practice of redlining has had a long term impact on segments of our community that has yet to be resolved.
Makello is an advocate of green transportation options, providing FREE Energy Savings Estimate services including an analysis of potential electric vehicles to fit your needs, so it was only natural we take a look access to public charging stations African Americans have in the former redlined areas. The results were………….. well, see for yourself.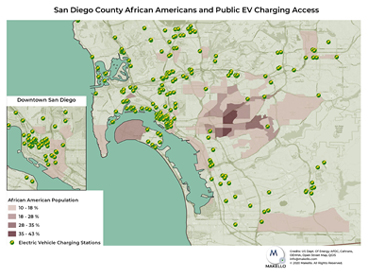 The data from the US Dept. of Energy Alternative Fuels Data Center may be mapped and compared to the CalEnviroscreen Demographic Data. The neighborhoods with the highest concentrations of African American Residents do not have easy access to public electric vehicle charging stations. One consequence is this discourages San Diegans with electric vehicles living outside these communities from driving to businesses in these neighborhoods and spending money. The lack of access to public charging stations also discourages the residents of these neighborhoods from purchasing electric vehicles because they don't have the ability to conveniently charge their vehicle. This is especially true for multi-unit dwellers where there are structural and parking challenges to overcome when installing EV charging stations. This creates additional barriers to EV ownership, keeping the community from reducing pollution, developing business opportunities, and creating jobs in their neighborhoods.
Book an appointment to receive Makello's Ethical Energy Savings Report, which is the result of a detailed trade-off study of discount utility rates, grants, rebates, tax credits, and equipment options, to determine the fastest payback and highest return on investment to meet your home, business and vehicle energy needs.
The fee for the Ethical Energy Savings Report is refundable (less the 3rd-Party $15 utility data access charge) or credited towards our installation services, after you attend the presentation meeting and complete a 5 minute survey after permission to operate.
Includes up to 5 hours research by the Makello team, and 1 hour Q&A, by Makello's Ethical Energy Efficiency Expert.
We're shifting gears now and will be examining the energy cost burden in the City of San Diego. The energy cost burden data was obtained from the 2019 San Diego Climate Equity Report and overlaid the demographic data from the CalEnviroscreen 3.0. Generally speaking, the energy cost burden was calculated as a weighted average for each census tract and divided by the median household income for each census tract to obtain the energy cost burden score. For more detailed explanation of the energy cost burden, please visit the San Diego Climate Equity Report page.
The white outlined areas in the map posted below have the lowest energy cost as a percentage of Median Household Income and the dark green areas have the highest energy cost burden. Most of the African American San Diegans are in the minty green areas and have an energy cost burden of 1.3%- 2.7%. There is one area with 18-28% of the African American residents and a 4-5.4% energy cost burden.
This cost puts an additional financial strain on those residents with more modest incomes and often prevents the residents from using air conditioning or heaters in bad weather, increasing some health risks especially for elderly and health challenged individuals. Or the residents may use older, less energy efficient equipment, increasing energy cost and pollution.
One potential solution for reducing the energy cost burden and pollution is solar energy and battery storage. We mapped solar adoption rates from the San Diego 2019 Climate Equity Index report and again, overlaid the demographic data from CalEnviroscreen 3.0. The areas outlined in white have the least access to solar energy. Many African Americans are living in areas where at best, there are per capita 0.05 solar photovoltaic systems resulting in these residents having a low ability to decrease pollution due to electricity production and consumption in the home, reducing overall energy cost, and protecting against power outages.
Returning to redlining, banks' historical unwillingness to loan money in these communities have left many residents underbanked and underserved. Solar Systems, Electric Vehicles, Battery Storage Systems are investments that can improve personal finances and the quality of life for anyone that can afford a purchase, or qualify for financing. Beyond traditional loans or leases, community members can use the State of California's Property Assessed Clean Energy (PACE) financing for home upgrades and energy upgrades. PACE is not a loan and does not appear on an individual's credit report. PACE funds are repaid on the annual property tax bill.

This concludes our discussion for now. Please stay tuned for additional articles where we take a look at other issues and demographic segments of San Diego Residents.
Book a FREE 15 minute appointment to: 1) Find out how Makello can help you. 2) Discuss your energy needs. 3) Get a FREE Energy Savings Estimate.
To learn more about Makello, click on the videos below.
Credits:
Caltrans https://dot.ca.gov/
OEHHA- https://oehha.ca.gov/calenviroscreen
University of Richmond Digital Scholarship Lab https://dsl.richmond.edu/panorama/redlining/#loc=12/32.776/-117.29&maps=0&city=san-diego-ca&area=D4
City of San Diego 2019 Climate Equity Report https://www.sandiego.gov/sites/default/files/2019_climate_equity_index_report.pdf
Health Resources & Services Administration https://www.hrsa.gov/
SanDAG https://www.sandag.org/index.aspsubclassid=100&fuseaction=home.subclasshome
California Open Data Portal https://data.ca.gov/
Census Bureau https://www2.census.gov/programssurveys/acs/methodology/design_and_methodology/acs_design_methodology_ch06_2014.pdf
US Department of Energy Alternative Fuels Data Center https://afdc.energy.gov/stations/#/find/nearest
APA STyle Racial and Ethnic Guidelines https://apastyle.apa.org/style-grammar-guidelines/bias-free-language/racial-ethnic-minorities
American Heritage Guide to Usage and Style- Person of Colour https://zourpri.files.wordpress.com/2014/01/the-american-heritage-guide-to-contemporary-usage-and-style-2005.pdf
Is the Term "People of Color" Acceptable in This Day and Age? https://www.sapiens.org/column/race/people-of-color/
Are Asian Americans White? Or People of Color? https://www.yesmagazine.org/social-justice/2020/01/15/asian-americans-people-of-color/
'People of Color' are protesting. Here's what you need to know about this new identity. https://www.washingtonpost.com/
The Perils of "People of Color" https://www.newyorker.com/news/annals-of-activism/the-perils-of-people-of-color
Where did BIPOC Come From? https://www.nytimes.com/article/what-is-bipoc.html