7 ways to install solar without roof penetrations!
( 5 that you can take with you when you relocate! )

Our Solar Installation Process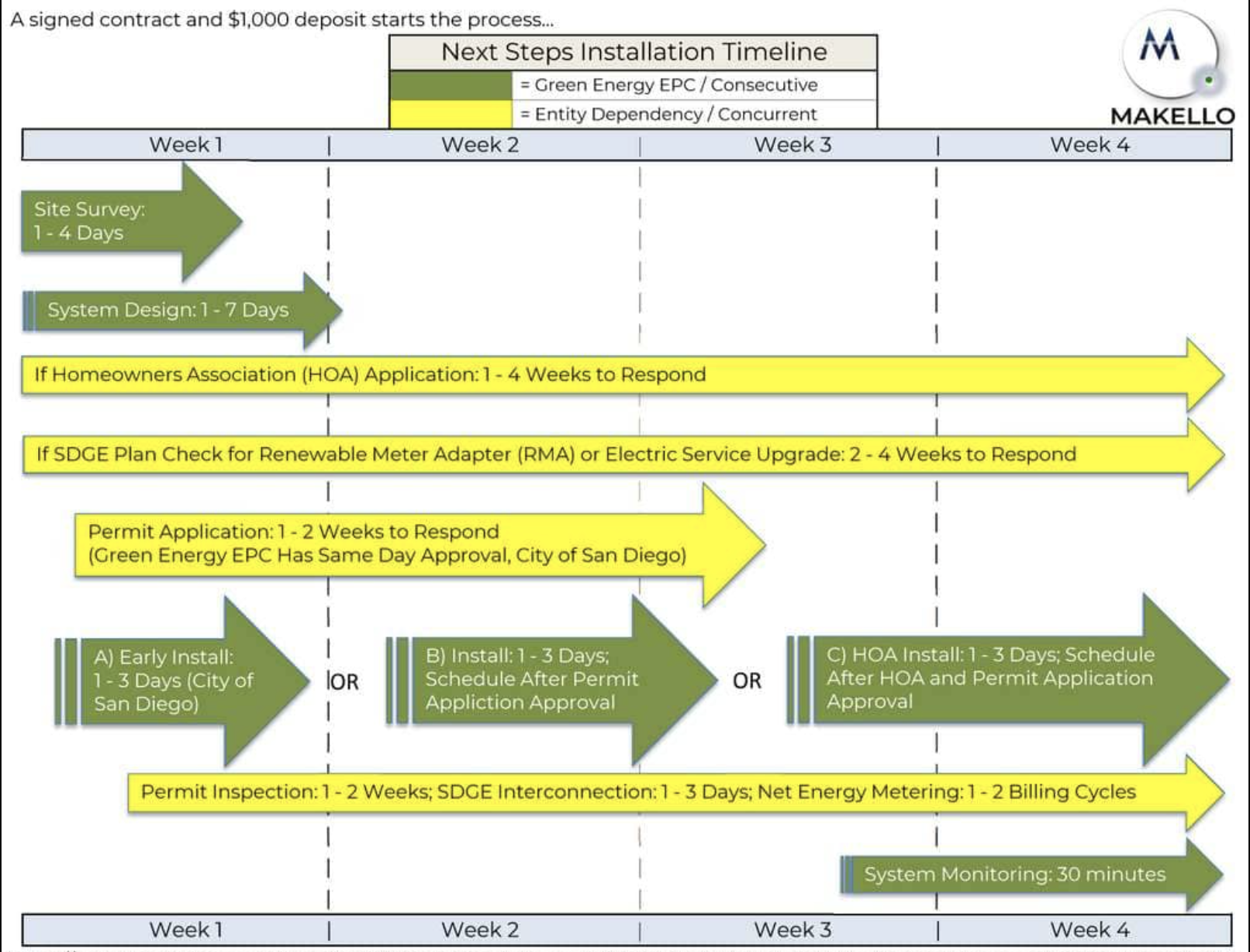 Makello does NOT use subcontractors.

Makello has
100% 5-Star Ratings on Yelp!
​with our exclusive San Diego solar panel & energy storage installer, Green Energy EPC (111 Reviews Total​​). Makello performs the Energy Analysis. Green Energy EPC performs the installation.
Next Steps (after the Energy Analysis):
Discuss solar panel, plug-in vehicle and energy storage options. Contact Sam & Charlie with any questions.
Sign the Green Energy EPC contract and a $1,000 deposit check to Green Energy EPC is received.
Green Energy EPC completes the final site survey and generates the necessary documents for registering with the utility. (usually within 1-4 days)
Green Energy EPC creates the permit design drawings. (usually within 1-10 days)
Green Energy EPC submits the design drawings to the permit office. (1-2 weeks typically for response, but could be up to 4 weeks)
Green Energy EPC schedules the installation. (typically 2-4 weeks, however the end of the year can be up to 4-8 weeks)
Green Energy EPC Installation of the solar photovoltaic system. (2-3 days typically, weather permitting)
Green Energy EPC schedules for permit inspection. (1-2 weeks typical)
Green Energy EPC requests permission to interconnect with the utility (1-3 days after permit inspection.)
Green Energy EPC will set up the monitoring. (30 minute appointment.)
SDGE activates Net Energy Metering contract and utility bill accounting begins. (1-2 billing cycles)
Green Energy EPC returns after the NEM billing is activated, after at least 1-2 billing cycles, to take pictures and document the installed system, receive feedback, respond to questions.