Energy Upgrades in East County San Diego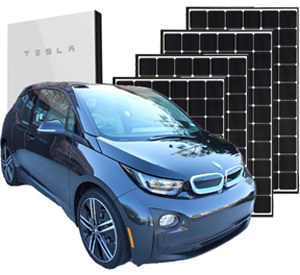 Get Makello's FREE Energy Analysis today to qualify for up to 100% incentives for Solar Power, Plug-In Vehicles, EV Charging and Energy Storage.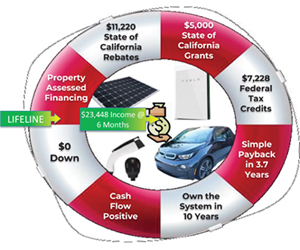 Would you like to have a 6 Month Emergency Fund right now? An "Energy Upgrades Lifeline" delivers incentives up front and pays for itself over time.
About Santee
In San Diego communities, Makello supports non-profit organizations with grant and program funded community development. For example, in Southeastern San Diego Chollas Creek, Makello supports Groundwork San Diego with community education at Plug-In Vehicle events, city planning committee meetings, and presentations. Makello educates staff, parents, and students about Plug-In Vehicles, Solar Power, and Energy Storage. Visit our grants page for updates about a multi-million dollar win for San Diego!
Santee
Santee is a suburban city 18 miles inland from the coast. It covers roughly 16.5 square miles and has a population of about 60,000. There is still plenty of vacant land that is being developed for residential and business use. Many residents enjoy the family oriented lifestyle away from the bustle of the city. Recreational activities include hiking, rock climbing, and biking at the various open spaces, but there are also many easily accessible shopping areas that accommodate residents' needs. There is also a large sports development that hosts various regional tournaments and events. The Kumeyaay Native Americans have roots to this area, and some of their headquarters and casinos are in close proximity to Santee.
Communities
Santee homes are located in suburban neighborhoods with lower population densities. A large majority of homes are single family residences occupied by the homeowner(s). Only about 20% of homes are occupied by renters. Over half of the households are home to married couple families, and about 10% are single-parent families. The age of the homes is relatively older, with most being built between 1970 and 2000. Home improvement and remodeling projects are common among Santee homes. The zip codes that encompass Santee are 92071 and 92072.
People
Santee is composed mostly of families, with the average age of residents being in the mid to late 30s. Diversity and education levels are about the same as the US national average. Most households have 2 or more workers, creating a higher than average labor force participation and lower than average unemployment rate. If possible, Santee residents like to work from home, but many end up commuting to their work site. These families spend a lot of time on the road, and as a result, spend more money on car maintenance and eating out at either fast food or restaurants. They enjoy home improvement projects and watching TV.
Environment
Santee has some areas with medium pollution scores and low incomes as calculated by CalEnviroScreen, representing a population vulnerable to pollution related issues. ​​ High rates of dust and pollution particles in disadvantaged communities may increase the spread of viruses, worsening the COVID-19 crisis in communities with already low defenses. Additionally, many parts of the area lie in high fire threat districts. These environmental qualities could qualify some residents for rebates and incentives for Solar Power, Plug-In Vehicles (and EV Charging), or Energy Storage installations, lowering the cost of these installations.
Makello's guest lecture presentations can help direct millions of dollars in Federal, State, and Local program funds to where it is needed most in your community. Contact us for your next company, organizational, board, or membership meeting, green initiative, or grant writing project.
Santee Solar Panel Installation
Santee may be eligible for up to 100% incentives for solar installations. For more information, see the incentives summary below.
Energy Independence
Many residents and business owners in Santee are interested in utilizing technology that is eco-friendly and improves quality of life. Solar energy systems are increasingly affordable, especially after energy efficiency measures reduce use, and incentives and financing options reduce the up front cost. Installing solar energy helps reduce energy costs while creating energy independence, which is especially useful during the peak use hours, rolling brown outs, or planned power outages. ​
Incentives, Strategy, and Timing
Federal Tax Credit:2019: 30%, 2020: 26%, 2021: 22%, 2022: 10%.
Businesses are eligible for Federal & State Depreciation, or up to 100% 1st Year Write-Off for business use.
SASH and SOMAH programs (Makello will not assist with these installations, but know some residences may be eligible for these programs.)
Avoid tariffs; hoarding and price increases affect all brands.
Assess inflation, interest rates, income growth, and lifestyle.
Technological efficiency gains are reaching the theoretical limit.
Average residential installed cost is $3.5/W before incentives.
Makello can help guide you to Optimal Cost Savings with a solar system right-sized for your goals and site characteristics. Contact us for your FREE Energy Analysis.
Plug-In Vehicles
Santee is eligible for up to $17M in CalEVIP program funds for DC Fast Charging and Level 2 EV Charging.
Benefits for All
Plug-In Vehicles are a great way to show your attention to style and concern for the environment. Driving with zero greenhouse gas emissions contributes to cleaner air quality and may help lower potential pollution-related negative health impacts such as asthma, low birth weight, or complications for cardiovascular disease. Driving electric is also quieter, helping to reduce noise pollution related stressors. ​
Using public transportation also helps reduce air pollution! If you currently use or are interested in using public transportation, visit San Diego's 5 Big Moves and MTS's ElevateSD 2020 campaign to get ready for the clean transportation revolution.
Don't just take our word for it, listen to Groundwork San Diego's high school Green Team explain the benefits of Plug- In and Electric Vehicles.
44+ Models
Plug-In Vehicles come in many forms; SUV, van, truck, sedan, or motorcycle. Drive electric on Solar Power or Super-Off Peak discount utility power, for 1/3rd the cost of gas, instead of driving electric on Peak-Rate utility power for more than the cost of gas. EV and Plug-In Hybrid improved performance and no-noise driving, means more 'Smiles Per Mile'.
HOV Sticker, Discount Parking, Tolls & Utility Rates
Perks to Plug-In Vehicle drivers include access to California HOV Lanes for single occupant vehicles, discount parking & tolls in select cities, and a quiet, peaceful drive.
Plug-In Vehicles are a fun and efficient method for traveling around town, with rebates and incentives making the vehicles an increasingly affordable option for all income levels, home owners and renters alike. ​
Discount EV (or Plug-In Hybrid) utility rates apply to the whole house. Compare SUPER OFF-PEAK discount EVTOU5 utility rate ($0.05 – $0.09/kWh) vs solar power ($0.06 – $0.08/kWh after incentives cash purchase or $0.9 – $0.14/kWh loan) vs utility power (~$0.25-$0.56/kWh; low-income and medical CARE ~$0.16-$0.3/kWh).

Up To $80,000 EV Charging Incentives
$17M in CalEVIP program funds

Proposed Level 2 Incentive Design, per connector, up to 10 connectors:

$5,000 standard application.
MUD $1,000
DAC $500
AB1550 $500
Rural $1,000

Proposed Level 3 Incentive Design, per connector, up to 6 connectors:
| | | | |
| --- | --- | --- | --- |
| DC Fast Charger (DCFC) | Non-Disadvantaged Community | Disadvantaged Community/ Low Income Qualified | LCFS * waiver? |
| 50kW+ | Up to $50,000; or 75% | Up to $60,000; or 80% | required |
| 100kW+ | Up to $70,000; or 75% | Up to $80,000; or 80% | not required |
* LCFS= low carbon fuel standard
Up To $33,500 Vehicle Incentives
Businesses are eligible for Federal & State Depreciation, or up to 100% 1st Year Write-Off for business use.
Choose CVRP (CA Rebate, $1,000 – $2,500; Additional $2,000 if low-income qualified) or CVAP (CA Grant $5,000 to low-income qualified; available at specific car dealers) for new Plug-In Vehicle.
Choose Clean Cars 4 All (Up to $9,500 for new or used Plug-In Vehicle) or CAP (EFMP CA Grant; $1,000 -$1,500 Retirement; $4,500 – $9,500 Scrap & Replace)
CAP (CA Grant – $500, Smog Check Repairs)
SDGE It's On! Rebate (2020 Unknown; 2019:$850; 2018:$500; 2017:$200)
SDGE Champions for Clean Air ($1,000 Teacher/First Responder)
eMotorWerks (EVSE Up to $50 Rebate)
California State Employee HR EV discount (roughly 4%-7% of vehicle cost, depending on model & package) $1,600+
UCSD Staff up to $15,000 (Seasonal programs, 4-5 vehicle models $1,000 – $15,000 off, fleet pricing, various manufacturers)
Many more employer company programs, such as Qualcomm.
Up To $9,500 Annual Savings
Makello and Groundwork San Diego can help Santee to receive Optimal Cost Savings with Plug-In Vehicle recommendations that fit your lifestyle and cost savings goals. Get your FREE Energy Analysis!
Energy Storage
Santee is eligible for up to $100M in California SGIP Rebates. For more information, see the incentives summary below.
Resiliency and Cost Savings
Energy Storage, a.k.a. battery storage, can be a great option for Santee residents and business owners. 'Energy Independence' means that critical needs are met; life sustaining medical equipment, refrigeration, A/C, well pumps, security and technology works automatically, seamlessly, day or night, event during rolling blackouts, wildfire conditions, or planned utility shutdowns.
Check out Makello's Mobile Energy Ecosystem – energy on the go with no need for utility power!
Incentives, Strategy, and Timing
Makello can help guide you to Optimal Cost Savings with an Energy Storage system right-sized for your goals and site characteristics. Get your FREE Energy Analysis!