Recently, a solar powered homeowner inquired about adding a Level 2 charger for a 2013 Nissan Leaf, typically a $400 installation. Most solar companies would refuse the job due to low profit.
Makello rose to the challenge and used our Energy Analysis tool to present an "Energy Upgrades Lifeline" option that improves the homeowner's cash flow and can provides a "6 Month Emergency Fund".

Parcel level GIS mapping software made by Makello, is used to determine eligibility qualifications for a wide variety of energy upgrade grants, rebates, discounts, credits and deductions.
Makello works with non profits and other agencies to create maps for Environmental Justice initiatives.
The rooftop solar on the home was installed for free in 2012 by Grid Alternatives through the SASH program, for qualified low-income residential California homes. An Energy Upgrade Lifeline can work even if the property already has solar.
One of the homeowners was temporarily laid off due to the pandemic. An Energy Upgrade Lifeline can qualify for financing by the State of California based on prior year tax return.
Makello's Ethical Energy & Cost Savings Analysis provides $23,448 Incentives upfront for adding more solar, energy storage, a 2nd EV and a Level 2 charger.
What makes the solution possible is a Property Assessed Clean Energy (PACE) financing method that does not appear on the credit report, is not a loan, does not trigger a property reassessment and can transfer to the next home buyer.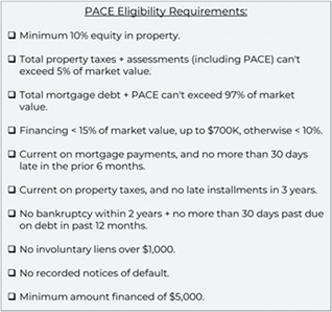 PACE financing ranges from 5 to 30 years term for solar, 10 years for energy storage, and can be used for other energy efficiency improvements. PACE can be as low as $0 down, it provides tax deductible interest, there are no pre-payment fees, and no credit minimum.
The PACE program is intended for use by those that can demonstrate the ability to pay. There are safeguards to protect against abuse, such as a soft pull credit check, income verification from a recent paycheck or tax return, and a requirement that the energy efficiency project is cash flow positive, as it is here: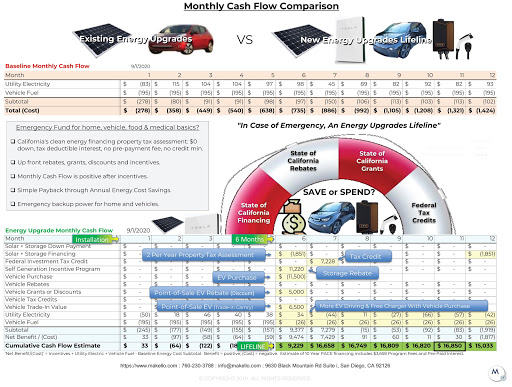 What makes the solution a "Lifeline" is that the incentives payments can be used as a reserve. In an emergency, the basic expenses such as mortgage payment, food, and medicine are met. The system is designed to be cash flow positive, meaning lower cost monthly and annually, than the baseline status quo.
Makello's "Lifeline" Incentive Payment timing gives the homeowner flexibility to make decisions on what to do with the money and when to put the reserve to use. In this case, after 6 months, the homeowner can decide to use some or all of the Incentives to purchase a Plug-In Vehicle to further increase energy cost savings, or for another important use.
Simple Payback is possible in 3.7 years through Annual Energy Cost Savings. That means it's a good deal for a cash purchase or loan. For those on a fixed income, traditional loans might not be a viable option. In the cases where PACE financing is Cash Flow Positive, we can present the PACE option as an alternative.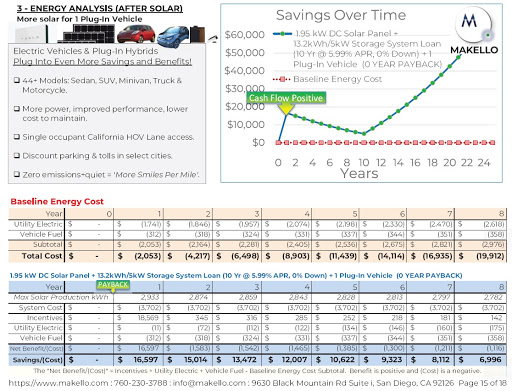 Book a FREE 15 minute appointment to: 1) Find out how Makello can help you. 2) Discuss your energy needs. 3) Get a FREE Energy Savings Estimate.
Makello's Optimal Cost Savings Plan has other benefits for California in 2020, such as emergency backup power for home and vehicles, water pumps, air-conditioning, air-purifying and fire-fighting equipment.
Makello is ethical in our approach, offering full disclosure about PACE terms and program information, bank and credit union loan alternatives.