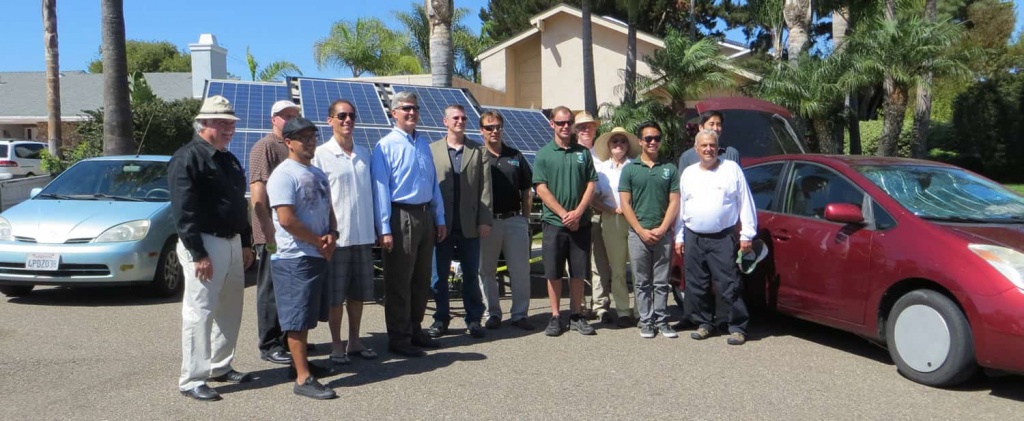 Our off-grid, Plug-In Vehicle & personal electronics charging station delivers "Power when you want it, where you want it, day or night, even during a utility blackout".
The Wipomo Mobile Energy Ecosystem at the home showcase during SDRES Sustainability Tour 2013. People from left to right: Skip Fralick- California Center for Sustainable Energy (CCSE), Juergen Zierler- Architect Wipomo, Hubbell and Hubbell, Jorge Perez- Landscape Designer, Charlie Johnson- Wipomo, CCSE, SDRES, Dave Roberts- County Supervisor of District 3, Stephen Johnston- Chair SDRES, Guest, Chad Castler- Engineers for a Sustainable World (ESW), Roger Davenport- Co-Owner Butler Sun Solutions, Cindy Davenport- Co-Owner Butler Sun Solutions, Glenn Siman-Engineers for a Sustainable World, Barry Butler- Co-Owner Butler Sun Solutions, Derek Chung- Engineers for a Sustainable World
You can save with Wipomo's Energy Ecosystem, and now we're bringing it to you so you can see for yourself. The Wipomo Mobile Energy Ecosystem is an on-grid and off-grid charging station that demonstrates the versatility of Wipomo's Ecosystem. Wipomo saw the potential for a mobile demonstration unit in the first iteration of the then called Solar Slider. Two versions later, the Mobile Energy Ecosystem now has an advanced energy management system that accepts energy from solar photovoltaic modules, batteries, grid connection via a standard 120V outlet and input from an electric vehicle. The electricity flows through the whole system, recharging the batteries, powering loads and sending excess energy back to the utility, if available.
Upgrading the unit started and ended in August and Setember of 2013. Wipomo supplied the electronics that make the Energy Ecosystem possible while Roger Davenport, an advisor, designed and installed the system. The Wipomo team took the Mobile Energy Ecosystem to the Sustainability Tour at UC San Diego for the commercial tour and then to Wipomo's Home Showcase for the residential tour (pictured above). After another round of improvements for safety and display, the Mobile Energy Ecosystem is ready for more events.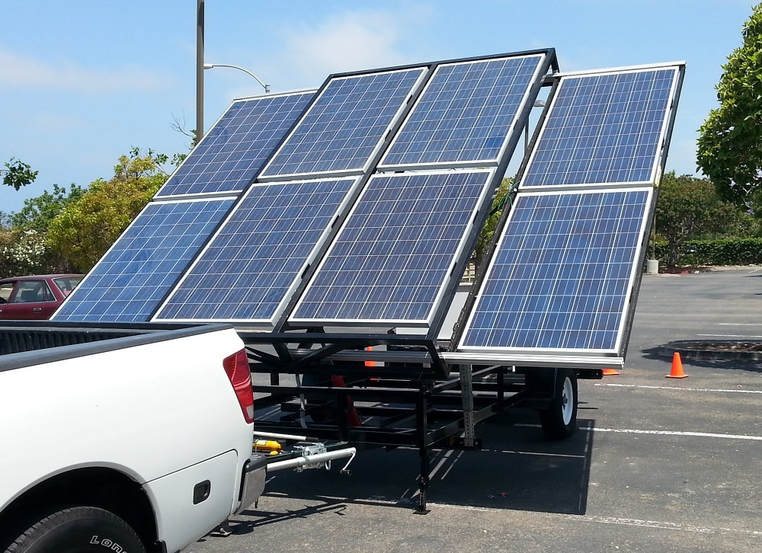 Basic (Entry Level) system:
8 x 240w PhonoSolar PV Modules = 1.92kW DC (nominal)
4 x 105Ah Trojan 27TMX 12v Batteries @ 48v = 5.04kWh capacity (nominal)
1 x SunnyBoy 2500 watt inverter at 220v
1 x SunnyIsland 4500 watt inverter / charger
1 x Wipomo EV Export Power 1kW = 2 x 500 watt power supplies @ 210-375VDC input voltage (nominal)
#ad :: As an Amazon Associate we earn from qualifying purchases.