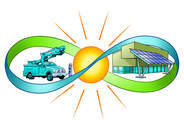 Wipomo unveiled the Mobile Energy Ecosystem at UCSD, during the 13th annual San Diego Sustainability Tour, an event organized by the San Diego Renewable Energy Society.
The Mobile Energy Ecosystem is second generation off-grid electric vehicle and personal electronics charging station, designed by Wipomo and Butler Sun Solutions, Inc.
Wipomo's design made it possible to power a house or business from an electric vehicle.
During the event, Wipomo demonstrated vehicle-to-vehicle (V2V) high voltage power transfer, through the Mobile Energy Ecosystem. Our design shows that electric vehicles and distributed power generation can provide wide ranging possibilities, from EV rescue, to ancillary services for the utility.
The first generation system, called the "Solar Slider", powered up students between classes at UCSD for more than a year, and served as a renewable energy educational tool.
The Solar Slider is the result of a SunEdison grant awarded to Engineers for a Sustainable World (ESW), to build a "Green Island" utility vehicle and electronics solar charging station for UCSD campus.
ESW@UCSD students designed and built the solar PV deployment cage and hydraulic lift, attached to a single axle trailer.
Charlie Johnson, Wipomo, CEO, participated in the ESW Solar Slider project as grant writer for the SunEdison "Green Island" national contest, and as a community leader in assisting in organizing a student ASES chapter at UCSD, fulfilling his pledges as an elected board member of the San Diego Renewable Energy Society.