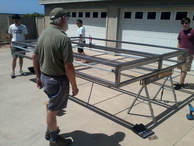 Led by SDRES board member and UCSD Engineering professor, Kurt Lund, PE, the Engineer's for a Sustainable World design and build the cage to be mounted on a trailer, to raise and deploy a 2kW DC solar array.
Our advisor Kurt, a professional engineering consultant, graciously opened his garage, tools and skill up to us for building the cage. As a group of undergraduate engineers (and one Psychology Major), we knew we had many hours ahead of us and plenty of "learning incidents" (where we completely mucked a few things up and had to fix it), but that's why we started this project in the first place. -Joseph Ocampo, Wipomo Research Intern
#ad :: As an Amazon Associate we earn from qualifying purchases.