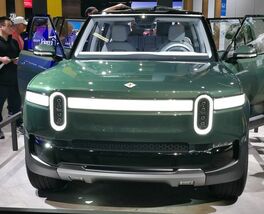 My first impression of Rivian is that it is not a particularly beautiful and elegant design.
Are you ready to save money on solar power, EV charging or Energy Storage? Get an instant quote from Makello!
The Rivian R1T's stadium-shaped headlights and the daytime running light bar form a striking expression that you cannot forget. The front grill looks like a face with the eyes and nose flipped upside down. Who would give a car a face like that?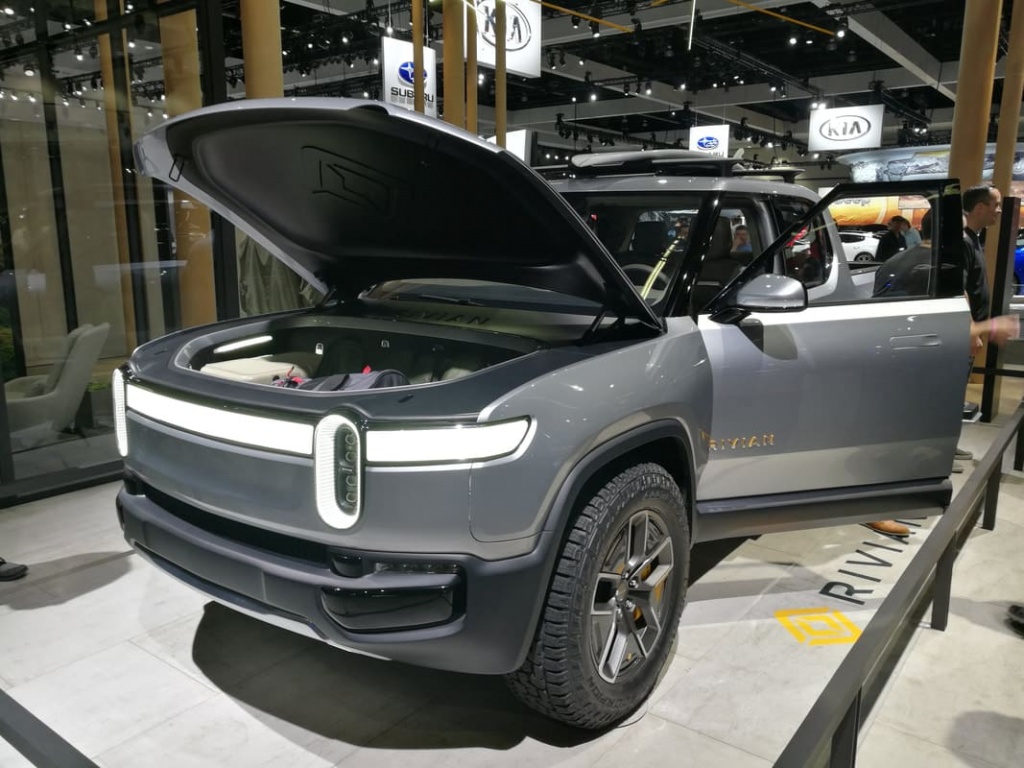 But being next to a R1T at the LA Auto Show, I come to realization that Rivian's design is highly distinguishable, incredibly futuristic, and surprisingly attractive.
Tesla is the market leader in electric vehicles, but other companies strive to challenge Tesla for relevance in the electric revolution. By focusing on outdoor adventure electric vehicles, Rivian becomes more than just an electric car company. Designed for freedom, the essence of a Rivian promises the spirit of an adventurer, with the power to conquer any hill, and the clean conscious lifestyle of zero emissions.
Rivian's designers have cleverly used the middle section of the daytime running light as a charge light indicator, adding some user friendliness to this clean design. The full width tail light and the word "Rivian" in that oversized font also make the R1T stand out with its modern yet rugged style.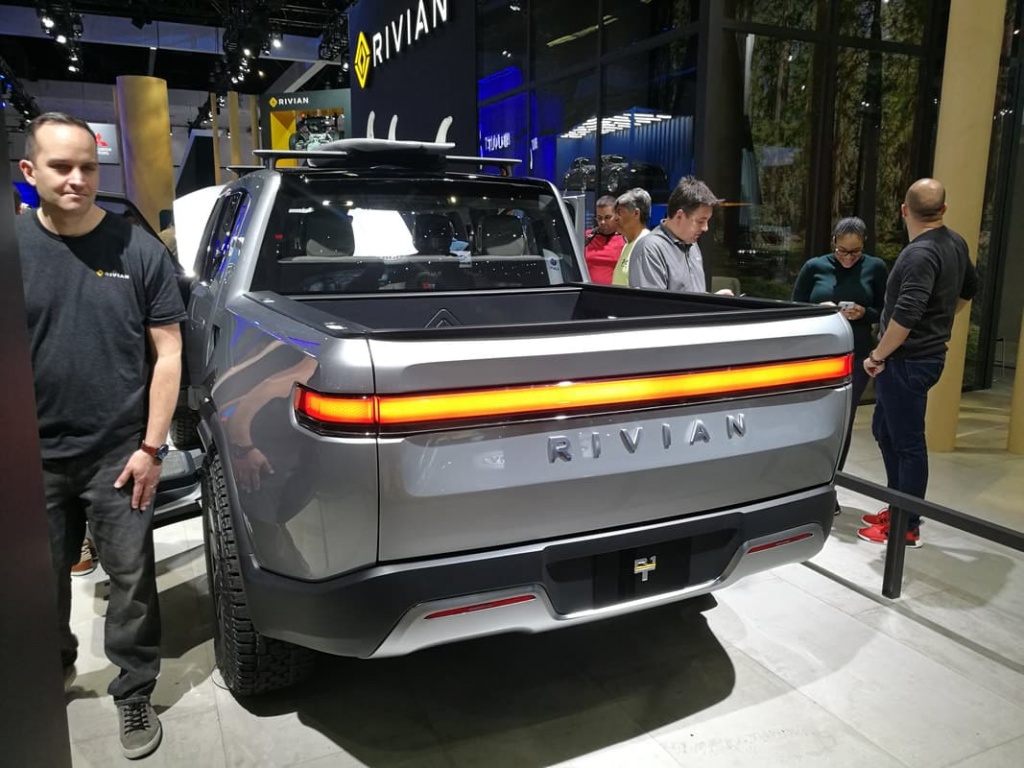 Speaking of lights, did I mention there is a flashlight hidden in the door panel of the two front doors? Not only is this a re-interpretation of Rolls-Royce's famous umbrella concept (since Rivian's users wouldn't mind a little rain), but it also act as a showcase of the company's technology. The flashlights are each powered by a battery cell exactly like the ones in the traction battery pack powering the truck. The weight and feel of the flashlight is sturdy and reassuringly reliable.
Another advantage of electric vehicles is the abundance of space where there would normally be a gear box and internal combustion engine. At the front, there is 330L of storage space under the hood; in the back, the full-size spare tire under the floor of the cargo bed is an improvement over the Hennessey Raptor whose cargo bed is entirely occupied by its spare tire. Automatic features include a 180 degree ergonomic folding tailgate and a retractable tonneau waterproof cover is an innovation that can be enjoyed by anyone. ​
Now, criminals, have you struggled to put a body in your car? Do you have trouble transporting a nuclear warhead discreetly with your vehicle? Well, good news! The 350L gear tunnel in front of the rear axle that extends from one side of the vehicle to another is here for you! Just kidding, the gear tunnel won't help you escape justice, but it will give outdoor adventurers plenty of room for and easy access to their gears without climbing into the cargo bed. This unconventionally located space is the best proof of Rivian going to great lengths to solve users' pain points.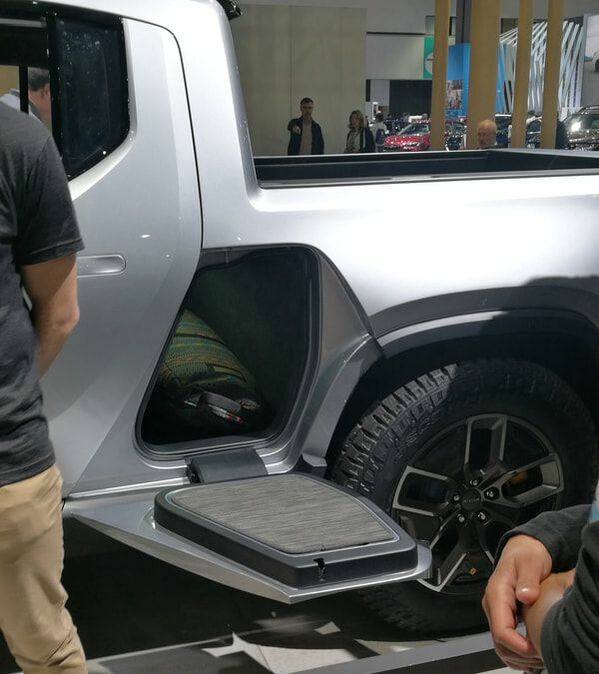 One of the reasons why electric vehicles didn't have a bigger market share today is the public's concern over range. Rivian overcame range anxiety by controlling temperature and battery performance in a thermally managed sandwich beneath the vehicle. Two layers of 432 cylindrical lithium ion battery cells in each of its modules are separated by a cool plate between two layers of battery cells. As a result, the Rivian R1T having 180 kWh battery pack is capable of 400+ miles range. Even the basic 105 kWh version is capable of 250+ miles.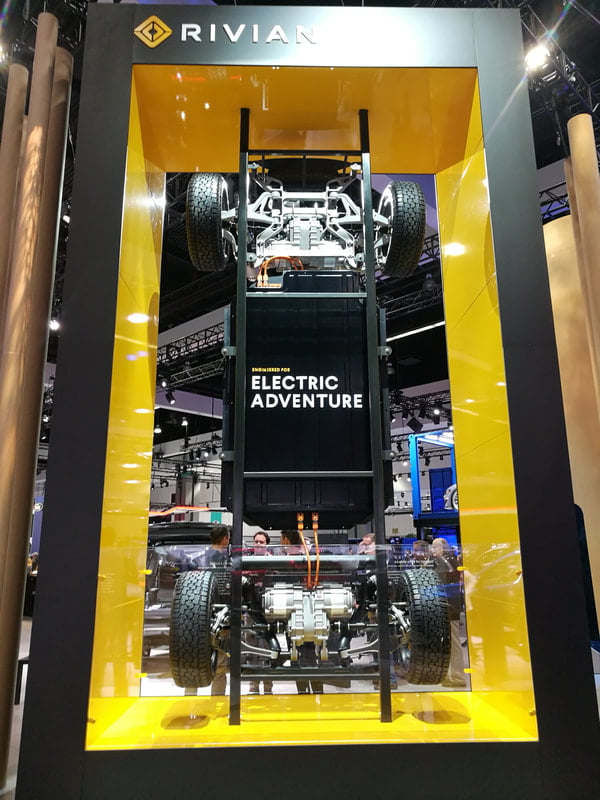 A terrifying 750 horsepower and 14,000 Nm of torque gives the R1T truck a supercar like 0-60 mph time of 3 seconds while retaining the pickup practicality with five tons of towing capacity.
What interests me the most, however, is its off-road capabilities. Many performance electric vehicles are equipped with four wheel drive simply by fitting an electric motor on each axle, but Rivian took a step further and built their four wheel drive system by fitting an electric motor for each wheel. This is good, because this four wheel drive system will be properly put to use when Rivian's passionate users takes them through the roughest terrain in their adventures.
Book a FREE 15 minute appointment to: 1) Find out how Makello can help you. 2) Discuss your energy needs. 3) Get a FREE Energy Savings Estimate.
The R1T is also capable of wading through a meter of water (good for evacuating from sea level rise and climate change accelerated storms), made possible by a watertight carbon fiber composite battery shell which is then covered by a smooth "ballistic shield" in the underbody of the vehicle. I still remember bursting into laughter when I saw Richard Hammond drove the G63 AMG 6×6 through a one-meter deep pool in Abu Dhabi on Top Gear, and I am sure watching the R1T do that would look just as good.
I once worried that the automotive industry's trend toward electrification, autonomy, and connectivity, might extinguish the personal connection we feel between ourselves and our machines, making the world less exciting. But, Rivian is pioneering a new field of electric vehicles with the spirit of adventure in each of its products. I have faith that Rivian and their 600 employees, will have the strength to conquer the competitive challenges and establish its name. Behind the wheel of a Rivian, one can enjoy the amazing gift of nature that Mother Earth has provided, while preserving it for our grandchildren, with zero emissions driving.
Click on the videos below to learn more about Makello and Electric Vehicles.