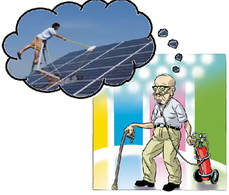 Can you name any electrical appliance, other than solar panels, that can work uninterrupted, for 30 years or longer?
Long term power production and cost savings is only part of the bigger picture. For example, how much do you save with solar if a poor quality installation causes a roof leak?
Are you ready to save money on solar power, EV charging or Energy Storage? Get an instant quote from Makello!
Quality in manufacturing receives most of the attention in discussions with 1000s of San Diego residents, at our events and at our Energy Analysis appointments. Why is so little attention paid to Quality Workmanship?
A high quality installation doesn't happen by accident. It starts with a NABCEP training curriculum, in the field mentorship, leadership that is reluctant to relinquish control or oversight until the trainee demonstrates excellence, and pledges to uphold highest standards in integrity, honesty and ethics.
There has to be a clear process and expectations, with strict adherence to safety procedures and protocols. There has to be metrics, full-disclosure documentation, and follow through on all commitments.
Any salesperson can say that they have highest quality. How will you know the difference? Read our guides to see for yourself: