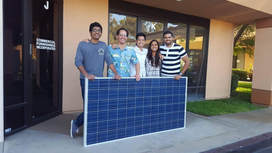 I first saw Makello at the Triton Career fair, where their colorful booth, binders full of pictures of the work they've done, and my would-be boss's passionate pitch immediately captured my attention and made me want to work there.
As an energy efficiency and renewable energy company, Makello is in a field that I was initially unfamiliar with. Thus, being an intern there made the summer very educational for me because I was assigned to perform various tasks that really expanded my skill set. I learned about the field of sustainability and alternative energy, developed new skills in various computer programs such as Microsoft Excel and Zoho CRM, and practiced communication from working with both customers and other interns. It broadened my horizons and my mindset in a way I didn't know I needed, and made me appreciate the value of learning outside the classroom.
The most exciting aspect of interning for Makello was that no two days were exactly the same; we were constantly learning new skills and given different assignments. Below are just a small handful of the tasks that I got to complete.

Customer Proposals
One of the main focuses of the summer was creating customer proposals. The first task was to update the company's already existing business model with the most recent data for energy usage in San Diego. This required me to research prices and formulas about gas and electricity, and then input the data into Microsoft Excel. Once the model was up-to-date, we would enter the customer's electric and gas usage and it would automatically generate a proposal for their solar needs. If the customer was interested, we followed a similar process to create proposals for replacing their most commonly used lighting around the house with LED light bulbs, which would ultimately save them more money.

Database/Computer Programs
Over the course of the summer, I was given a variety of tasks that required me to use different computer programs, some which I had no experience with. For example, we used Zoho CRM to manage the customer database. I previously had never been exposed to any database software, but it was very easy to learn and we were able to input lots of new customer data and easily access it when necessary. We also used Microsoft Excel for the business model; although it had already been created, I had to update formulas for some cells based on up-to-date rates, as well as add features to the model so we could create more accurate and adaptable customer proposals. Ever since learning the basics of Excel that summer, it has proven to be a very helpful skill because Excel is so frequently used. At the end of the summer, I was also tasked with using Adobe Photoshop for a new marketing campaign trial.

Client Interaction
Because Makello's leading focus is sales, the business heavily relies on the satisfaction of its customers, so keeping positive relations with clients was an important part of the summer. We interacted with these customers both via email and in person at their business or home, so I spent a large portion of the summer building my communication skills. We created their proposal prior to our first meeting with them, so we were prepared with data and tangible numbers in the first meeting. We presented our proposal, performed a Site Survey to obtain details about their roof, and performed and Energy Audit to potentially save them more money. Because this usually involved being in someone's home, we had to be very respectful to their time and space. The actual meetings were often very rewarding because the customers were so surprised and pleased by how prepared we were.
Aside from being exposed to the exciting field of renewable energy, the field of the future, my summer at Makello allowed me to develop and grow numerous personal skills. It was so much fun getting to do new things everyday, and was incredibly beneficial to have such a variety of tasks. Although I was working in a field that I had no experience in, with just an open mind and a desire to learn I was able to succeed and develop useful skills for the future. – by Bhavna Gupta