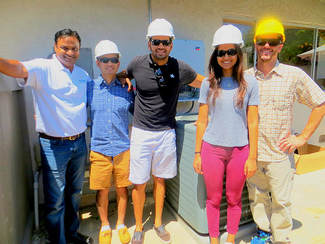 I first heard about Makello from a friend who was attending the UCSD Spring Job Fair. At the time, I was a fresh graduate in Environmental Engineering from UC Davis exploring companies that were as passionate about renewable energy as I was. From my friend's vivid explanation of Makello's job booth, displaying their countless solar installations and home energy improvements, I knew this was one opportunity I couldn't miss out on.
I went onto Makello's website and read more about the company goals and beliefs regarding solar and electric vehicles, and found that it matched my interests perfectly. After submitting my resume and getting scheduled for an interview with the lead Energy Efficiency Analyst, I was eventually offered the Energy Efficiency Research Position by the CEO himself, Charlie Johnson.
Solar Energy is Makello's primary focus when it comes to the company's purpose. In a very profitable position within the market, Makello establishes its own leads, assesses a homeowner's electricity consumption, designs an adequate solar array to meet those needs, and then hands off the design to any solar installation company of their choice. During my time as a lead solar array designer on the Makello solar design team, Green Energy EPC was the primary solar installation company Makello worked with, considering the two company owners had developed a very strong partnership over the years.
In addition to being a solar design firm, Makello stood out from the competition by seeking alternative techniques to reduce a homeowner's electric bill before assessing the electricity needs. To make it simple, by essentially spending $200-$300 swapping out a houses incandescent lightbulbs and excessive energy consuming appliances, a homeowner could potentially cut down the cost of their solar array by $2,000-$3,000. Such cost savings took many customers by pleasant surprise.
Lastly, Charlie Johnson is firm believer of energy independence, which is why he believes that an all-electric future of vehicles is much closer and more affordable than society thinks. With every customer, Charlie carefully sits down and explains what long term cost savings can mean for each respective homeowner. In more cases than not, the average homeowner is capable of purchasing a brand-new Tesla within a matter of 5-6 years if they were to go solar today.
Charlie's heart and soul are truly and deeply ingrained in renewable energy and electric vehicles. And although it was time for me to move on and explore other opportunities closer to home, Charlie's drive and passion will surely open up a whole new frontier to the next generation of renewable energy connoisseurs. -by Ashiq Syed
#ad :: As an Amazon Associate we earn from qualifying purchases.