Did you know that, whether or not you have an existing solar energy system, you can tap into a combination of up-front incentives, financing, to build up your savings into a 6-Month Emergency Fund and lower monthly costs?
Read more about the Energy Upgrades LIFELINE.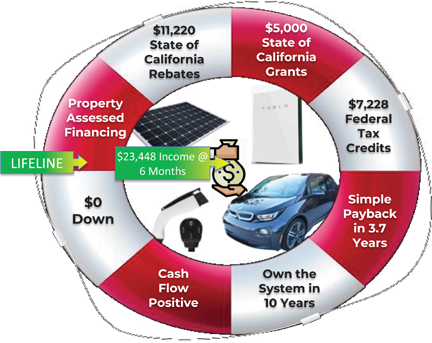 Book a FREE 15 minute appointment to: 1) Find out how Makello can help you. 2) Discuss your energy needs. 3) Get a FREE Energy Savings Estimate.
How it Works
Makello performs the Energy Analysis:
Site survey.
Shading analysis.
Cash flow analysis.
Trade-off study.
Custom proposal.
Makello can provide you with a FREE Energy Savings Estimate! If you share your utility data with us we can create a solar energy system that is specific to your needs. We will NOT share your data.
Our model can also show the cost saving benefits of a Plug-In Vehicle or Energy Storage system, or both, in addition to your solar system. All of our team works to get you the most comprehensive, thorough Energy Analysis in the San Diego area as quickly as possible.
The software engineers are constantly updating our computer model to reflect the most current utility rates and product costs. We have a dedicated GIS analyst who can qualify you for as many rebates and incentives possible. Our Energy Efficiency experts can also provide other solutions to reduce energy costs such as appliance changes or switching utility rates. Press one of the buttons to see how much you can save!
Learn more about: Solar Panels, Plug-In Vehicles & Energy Storage
Are you ready to save money on solar power, EV charging or Energy Storage? Get an instant quote from Makello!