Pandemic stressing out the family finances? Turn your home and vehicle into a clean energy emergency fund!
Getting laid-off is stressful even in the best of times. In the midst of a pandemic, job loss and financial surprises can drain your savings account fast. Did you know that whether or not you have an existing solar energy system, you can tap into a combination of upgrade incentives and financing that can return money to you. A Solar, Plug-In Vehicle and Energy Storage lifeline!
Recently, a solar-powered homeowner asked Makello to quote adding a Level 2 electric car charger for their Nissan Leaf, an installation often priced at $500 or less. Most solar companies refuse to take these small jobs as they are unprofitable for the installer.
But at Makello, we look at things differently. We know from experience that with the dizzying array of Solar Power, Plug-In vehicle, and Energy Storage incentives and energy cost savings, energy upgrades can pay for themselves. When the homeowner shared that their rooftop solar was installed for free under a low-income residential solar program (SASH), and that they had been laid off due to the pandemic, we started crunching numbers to see what we could do.
We offered a plan to improve the homeowner's cash flow and create a 6-month emergency reserve fund out of available incentives.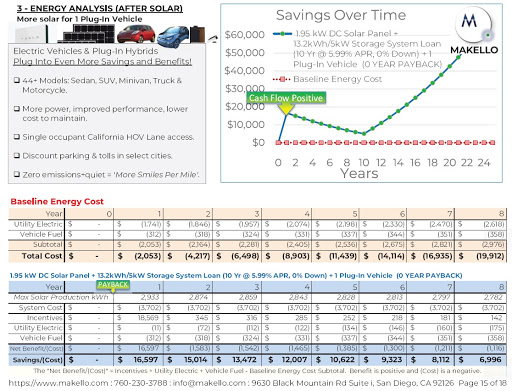 How did we do this?
Find Incentives → Optimize Upgrade → PACE financing → Create 6-month 'Lifeline'.
Incentive Finder – Makello's own GIS mapping database uses the home's geographic location to determine eligibility for a wide variety of energy upgrade grants, rebates, discounts and tax credits.
Optimize Upgrade – Makello's own Energy Analysis software shows the optimal Solar, EV, and Energy Storage upgrade plan, for the eligible incentives. In California, benefits such as emergency backup power for home and vehicles, water pumps, air-conditioning, air-purifying and fire-fighting equipment can all be worked into the upgrade plan. In this case, Makello showed that a larger upgrade would tap into $23,448 in incentives, and give the homeowner more solar, energy storage, a second EV and Level 2 charger.
PACE program financing – The State of California offers a Property Assessed Clean Energy (PACE) financing plan. Homeowners can qualify based on a recent tax return or pay stubs. The financing does not appear on a credit report, is not considered a loan, does not trigger a property reassessment, and can transfer to the next home buyer.
Create a 6-month financial 'lifeline' – Makello's "Lifeline" incentive payment program tracks the incentives and requirements, and allows the homeowner to choose the best time to draw on their earned incentives. In the example used here, a homeowner can decide after receiving the up front incentives to purchase a new or used Plug-In Vehicle, further reducing their monthly costs, or pay their most urgent bills, such as mortgage, food, and medical.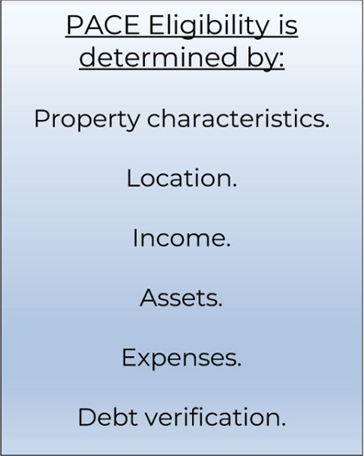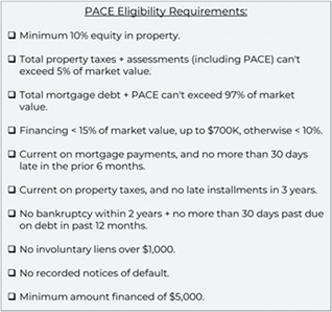 Makello's GIS mapping database, uses county parcel location to help homeowners determine eligibility for a wide variety of solar programs. We also use mapping to help non-profit organizations to design programs in disadvantaged communities that promote solar energy and electric vehicle incentives for economic and environmental benefit.
Makello works with non profits and other agencies to create maps for Environmental Justice initiatives.
How the PACE Program works: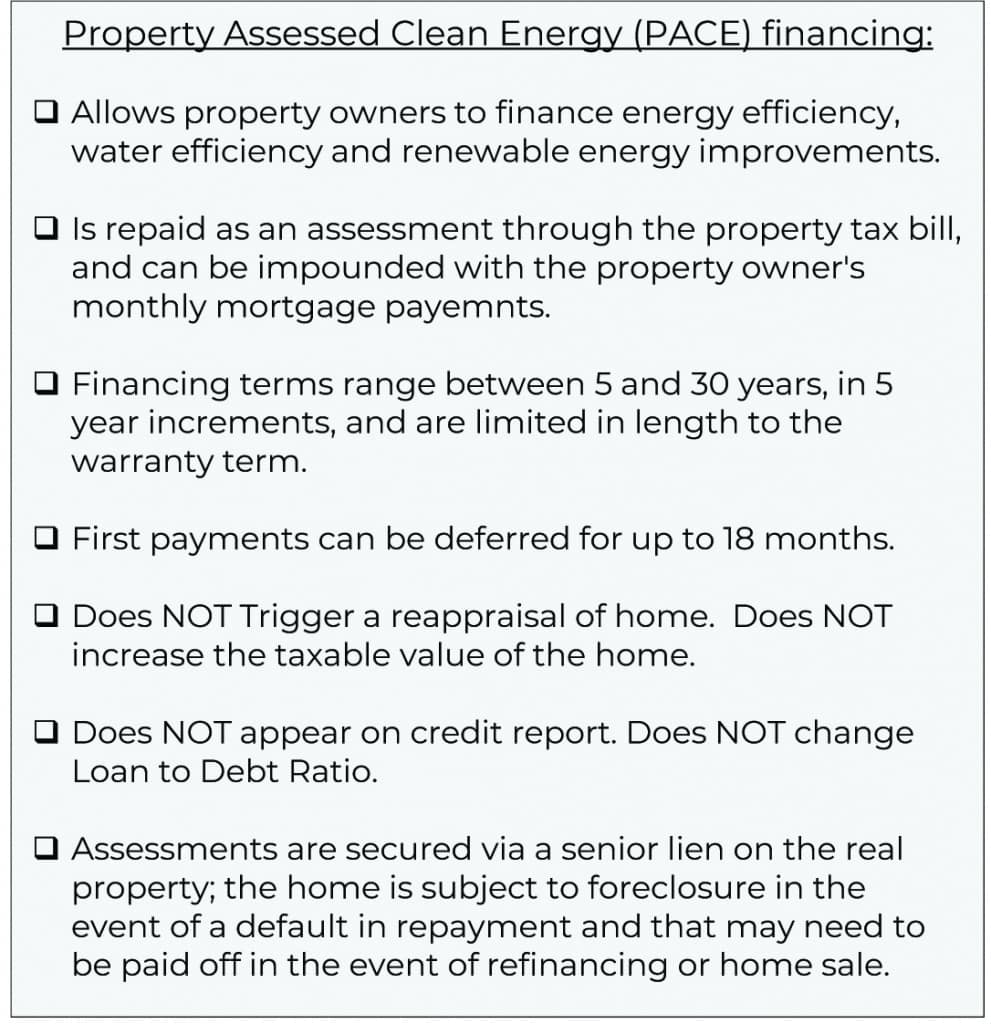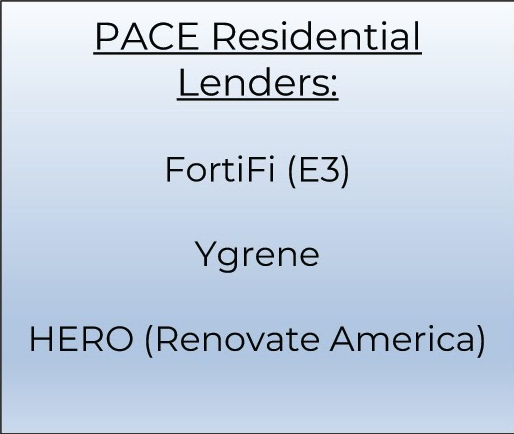 The PACE program is intended for those that can demonstrate the ability to pay. Homeowners provide a recent tax return or a pay stubs for income verification, and credit check, and Makello provides the Energy Analysis to show that the energy efficiency project will be cash flow positive.
Book a FREE 15 minute appointment to: 1) Find out how Makello can help you. 2) Discuss your energy needs. 3) Get a FREE Energy Savings Estimate.
PACE financing ranges from 5 to 30 years term for solar, 10 years for Energy Storage, and can be used for other energy efficiency improvements, such as electric panel upgrade, EV Charging, and a long list of energy efficiency upgrades. PACE can be as low as $0 down. It provides tax deductible interest.
For our homeowner in this example, Simple Payback is possible in 3.7 years through Annual Energy Cost Savings. That means it's a good deal for a cash purchase or loan. For those on a fixed income, traditional loans might not be a viable option. In the cases where PACE financing is Cash Flow Positive, we can present the PACE option as an alternative to traditional loans and leases.
Makello provides full disclosure about PACE terms and program information, as well as programs offered through banks and credit unions. Please contact us and we'll be happy to discuss the alternatives.
Click on the videos below to learn more.