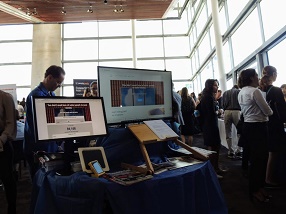 Skyline showcases are difficult to manage. At the September 18, 2019 "Job-I-Con" Hiring Event, held at the San Diego Library, 9th floor, the window walls stand 25' tall, on 3 sides. The east wall and roof shade cast the entire room into heavy contrast between 10 AM and 12 PM.
Book a FREE 15 minute appointment to: 1) Find out how Makello can help you. 2) Discuss your energy needs. 3) Get a FREE Energy Savings Estimate.
Makello understands what daily solar progression, heat gain, glare and backlighting issues from floor to ceiling windows can do to participation at a trade show. For greatest exposure to candidates before they break a sweat, sometimes a good location choice is near the entrance.
The aisles surrounding our table pass by Makello video displays, where "Why Makello?" and "What We Do" plays on repeat, next to our job postings. Engineers drawn to the videos of Solar Power, Plug-In Vehicles, and Energy Storage soon create noise and crowding in front of our table.
If pictures are worth a thousand words, it makes sense why our visitors often arrive with a good understanding about our mission, our vision and our purpose. When job seekers are able to relate their goals and experiences to the company as a whole, it is possible to go beyond the currently open positions and find added value or new opportunities.
Despite her initial reservations about the match between a solar company and her interest in GIS Maps, Linda Boisvert stands out among the 60 visitors. Makello Research Assistant position adapts to a GIS mapping focus. An On-The-Job training program by San Diego Workforce Partnership makes it possible for Makello to invest in Linda's skill development, using her Associates degree and lab work, to solve business technological challenges. Linda's background in Anthropology and Drafting/CAD, along with 11 years of HOA Management experience, helps Makello discover new potential revenue streams.
Linda's mapping accomplishments shine in Makello's Service Areas and in blog articles, such as "African Americans Concentrated in Diverse Redlined San Diego", which highlight issues of Environmental and Social Justice, Transportation, and Health. Makello receives recognition from several non-profit organizations for our educational webinars and board presentation of the map and analysis. We look forward to continuing to support community development programs and hospitals throughout San Diego with valuable interactive research maps.
Linda's demographic and incentives maps uncovers an "Energy Upgrade LIFELINE" program for low income and medical care qualified residents, and for fire-threat communities. Thousands of San Diego homes and businesses can qualify for up to 100% incentives on Solar Power, Plug-In Vehicles, and Energy Storage. Affordable Energy Independence!
Metro Career Centers and the San Diego Workforce Partnership empowers the San Diego community by connecting jobs to qualified applicants. Makello encourages San Diego companies to get outside of the bubble and make valuable connections at workforce.org.
Makello works with non profits and other agencies to create maps for Environmental Justice initiatives.